California Employment Law Attorney
San Diego employment lawyer John F. McCarthy represents California employees in termination, discrimination, wage and hour, and other employment cases.
Have you been fired or discriminated against in the workplace?
Is your employer trying to get rid of you?
Are you being harassed but afraid to tell anyone?
Is your employer treating you badly because of Race, Gender, Age or Sexual Orientation?
Do you want to ask an employment lawyer if you have a case?
Labor law attorney John F. McCarthy is a nationally recognized "10.0 Superb" top employment lawyer who protects and enforces employee rights in the workplace in matters such as:
Wage and Hours Disputes
Unpaid Earnings
Unpaid Commissions
Salary Misclassification
Unlawful Deductions
Workplace Harassment
Age Discrimination
Disability Discrimination
LGBT Discrimination
Denial of FMLA
Wrongful Termination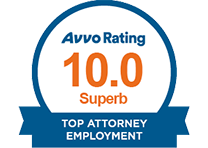 Do You Have an Employment Law Case?
Find out if you have a viable employment law case by sharing your situation with a skilled and experienced California Employment lawyer. Simply fill out this fast, simple, confidential Case Evaluation Form. Your employment law matter goes DIRECTLY to San Diego employment lawyer John F. McCarthy who will personally review your details to see if you have a case.
---
Why contact a San Diego Employment Lawyer ?
Employment lawyer John F. McCarthy is an expert in California labor law. John has the skills and experience to help employees learn about their legal options. Unfortunately, statistics show that employees lose most employment lawsuits — especially when they do not have the right legal counsel.
San Diego employment lawyer McCarthy can help protect employee rights and persue financial compensation through negotiation, litigation, arbitration and mediation. Attorney John F. McCarthy will review the merits of your workplace dispute or complaint and then advise you on the next logical course of action including: how to raise your issues, request an accommodation, negotiate a settlement or even litigate your case in court if necessary.
Employment lawyers handle discrimination issues under Title VII, the ADEA, the ADA, and the Fair Employment and Housing Act.  These laws cover issues like age discrimination, disability discrimination (including reasonable accommodation, the interactive process and cancer discrimination), pregnancy discrimination, racial discrimination, religious discrimination, sex discrimination and sexual harassment.  Discrimination attorneys can help employees build workplace discrimination case and even save employees' jobs before they become victims of wrongful termination.  Employment lawyers handle wrongful termination, and hiring discrimination cases, which are difficult to win because of California's presumption of at will employment.
San Diego Employment Lawyer McCarthy is here to help enforce California wage laws (including overtime, minimum wage, meal and periods, andwaiting time penalties), represent employees in wage and overtime disputes, and advise employees on common overtime issues (like overtime for salaried employees), time limits, keeping detailed records, how to collect unemployment benefits, and on a variety of other legal matters. Workplace lawyers fight for employee privacy, and consistent application of employee handbooks and policies. 
---
Why Hire a San Diego Employment Attorney ?
Employment attorney John F. McCarthy has worked tirelessly to help employees throughout California since opening The Law Offices of John F. McCarthy. Attorney McCarthy's passion is defend employee rights and civil rights in the workplace. John provides practical counsel and zealous advocacy for the victims of harassment, discrimination, retaliation, and wrongful termination.  Attorney McCarthy has taken on individual harassers, Fortune 50 companies and even the Courts themselves to ensure better working conditions across California.
Attorney McCarthy's unrelenting pursuit of justice and his passion for workers' rights stems from his growing up in a small farming community.  After graduating from law school, Attorney McCarthy went to work for an employment defense firm representing large agricultural employers.  Attorney McCarthy saw firsthand the atrocities many employers would commit in order to make more money.  As an associate, Attorney McCarthy recognized that he was a part of the problem.  He wanted to be part of the solution.  So, Attorney McCarthy opened his office in San Diego, and hasn't looked back.
Employement law attorney McCarthy truly cares about his clients and it shows.  Not surprisingly, Attorney McCarthy's clients have described him as being, "extremely knowledgeable in all things labor law" and "very fair and honest," a "RocknRolla," and even, "the mother f-in' man."  John's clients come from all walks of life.  They include everyone from immigrant workers that are the victims of sexual harassment to hospital whistleblowers that are wrongfully terminated.  John relishes the role of the underdog, taking on employers who have hired defense firms with 1000 times as many employees.
Every year John volunteers with the San Diego Volunteer Lawyer Program to provide pro bono legal advice for homeless veterans at Stand Down. John has also volunteered to serve as a speaker, judge, and even a witness for law students at all three San Diego law schools.  John is truly dedicating himself and his practice to a greater good.
In addition to running his San Diego Employement law practice, and being nationally recognized as a "superb" labor and employment lawyer, top wrongful termination lawyer, top discrimination lawyer, and top defamation lawyer, John speaks on labor and employment laws, publishes an employment law blog, has written for the American Bar Association, and is a member of the Consumer Attorneys of California, Consumer Attorneys of San Diego, San Diego County Bar Association, The State Bar of California, National Employment Lawyers Association and California Employment Lawyers Association where he serves as a mentor, and where he helps draft State and Federal Legislation to help employees.  In his spare time, John is a board member of the Ocean Beach Kiwanis.
---
Get a Confidential Case Evaluation with a San Diego Employment Lawyer now…
If you want to share the details of your case with an experienced employment lawyer in San Diego, Riverside, Orange, or Los Angeles Counties —or anywhere in California— act fast before it's too late… Use Employment attorney, John F. McCarthy's Fast, FREE Confidential Case Evaluation Form where you can tell John your story to get his expert opinion whether you have a good case!
Experience Counts and the experienced and hard working team at the Law Offices of John F. McCarthy will put their experience to work for you!
Contact John F. McCarthy Today!
Free Case Evaluation

Get Started Now